USD
The DXY (USD index) moved between strength and weakness this past month but ultimately remained broadly unchanged. Many of the same risks remain, with some trade conflicts in a "ceasefire" mode but materially unresolved.
Growth divergence between the US and the rest of the world remains a theme, implying a near term bias for a stronger dollar but at a much more muted level relative to earlier in the year. Over a longer horizon, the softening outlook for global growth has raised the prospect of the Fed slowing its hiking pace in 2019. Increased optionality provides the Fed with greater opportunity to pause and maintain rate hike flexibility. On the other hand, even though economic data has recently pulled back, it still remains strong with unemployment falling and inflation rising. For the near term, the markets appear to be pricing in a slower normalization cycle with US 10 year yields falling to their lowest level since September. Even if US growth has peaked, we ultimately need to see a broad stabilization in global growth before more meaningful dollar vulnerability.
Policy and political risks also remain. On one hand trade tensions have benefited the dollar. On the other hand, fiscal stimulus from earlier in the year is set to fade. Tax Reform 2.0 is unlikely with a divided Congress. Moreover, tribal politics raises risks around fiscal accidents (debt ceiling, government shutdowns) and an impeachment process contingent on the Mueller investigation findings. All these issues should continue to hang over the USD for the foreseeable future and warrant a dollar discount.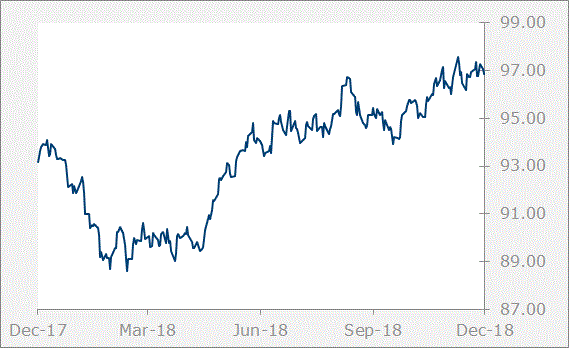 EUR
Over a 1 month horizon, the euro traded broadly flat with price action choppy but the currency ultimately remaining range bound. While we remain constructive on the euro in 2019, we expect the euro to remain pressured in the near term. Macro-economic divergence with the US should continue with US economic measures remaining strong and German economic data contracting for the first time in years without any sign of an imminent uptick.
Moreover, Italian concerns continue to weigh on the euro and Rome and Brussels are on track to clash over Italy's debt level and sustainability. Many headlines have pointed out that Italy's economy is 10 times larger than Greece's, making the potential fallout even more severe. However we ultimately see a resolution and the single currency remaining intact.
Supporting this view has been comments from the Italian government dismissing the idea that Italy would leave the euro, instead focusing criticism the EU's fiscal constraints. Additionally, recent headlines have shown Italian officials increasingly open to reducing its projected budget as well as EU officials exhibiting a willingness to compromise. While we are still in early days, it's important to note that this positive Italian news flow has come from high ranking officials as well as from the 5* party, which has been the biggest driver of the deficit. On the trade front, it has been reported that president Trump could introduce car tariffs before the end of the year, however European automakers are currently engaging in talks to avoid this. Car exports make up 30% of the trade surplus the EU has with the US.
Monetary policy wise we see the ECB maintaining its well-crafted normalization schedule despite a slowdown in economic activity. We do think that the ECB will be careful not to set expectations for a full blown hiking cycle.
Finally we would like to point out that European parliament elections are scheduled for May 2019. Populist are projected to gain seats but this might not have much impact on the euro as they are a disparate group of left and right wing groups without a common agenda.
GBP
As noted in prior commentaries, the GBP has been moving up on the back of positive Brexit headlines. However we also noted that it was difficult to feel confident in the move as a Withdrawal Agreement was just the first step in a long and contentious process.
Ultimately PM May did delivery a Withdrawal text but it still needs parliamentary approval. The GBP has sold off after a series of cabinet resignations as well as concerns over PM May's ability to get the deal through Parliament. As it stands, parliamentary math suggest that PM May will not get the deal through on her first attempt. Parliament is expected to vote on the withdrawal text on December 11.
From an economic point of view, the deal is a positive as it has a provision to extend the transition period to reduce the likelihood of a no-deal outcome. Additionally it has a backstop for the entire UK, not just Northern Ireland, and allows the UK access to other preferential trade deals the EU has with third countries. However, these same conditions have angered pro-Brexit politicians who fear a Brexit in name only scenario. Additionally, PM May's strategy of this deal or no deal raises the stakes as it polarizes possible outcomes.
Our base case continues to be for a negotiated exit. Ultimately a desire to avoid no-deal chaos will be motivation enough for Parliament to approve the text but expect elevated headline/volatility risk along the way. It is important to remember a negotiated Brexit would not completely eliminate real damage to the UK economy or even clarify how severe these consequences if the follow on political declaration on future trade relations is vague. Given this, a negotiated Brexit is positive as it removes the chaos of a no-deal Brexit, and warrants a partial removal of the Brexit risk premium.
JPY
On a year to date basis, the JPY has been relatively flat but since April, the currency has been on a broad weakening trend as US yields have been on the rise. Over the past month, the JPY has been one of the worst performers in the G10.
Some of the factors that have pushed JPY weakness are as follows. There has been larger than normal FDI outflows from Japanese corporates on top of healthy portfolio investment outflows from Japanese investors. Additionally Japan is one of the world's largest energy importers, meaning higher oil prices earlier in the year has eroded its trade surplus. Finally, tax reform in the US has lowered the effective rate on repatriated profits. As a note, repatriation is traditionally strongest around Thanksgiving and Christmas.
Given this, our argument against further JPY weakness in 2019 revolves around global political risks, recent stock market volatility and increased concerns around an impending global growth slowdown. Weaker global PMI point to slower growth, implying a drop in outward investments from 2018's historical high. Moreover, the JPY remains a safe haven and trade conflicts remain alive and well. Beyond the US-China conflict, US-Japan talks are also ongoing. It is likely that the yen's historically weak level will be a point of contention. The JPY's the JPY's real effective exchange rate—as calculated by the BoJ--is ~25% below its long run (since 1980) average. Lastly, the BoJ is set to tighten monetary policy as concerns over the long run impact of low interest rates and the narrow window to normalize as a tax hike is imminent. The elimination of the negative interest rate policy, with an emphasis that is isn't the beginning of a hiking cycle, is a likely first step. This potential for a hawkish shift coupled with a pause for the Fed path points to a stronger yen.
CAD
Throughout the year, we cited NAFTA negotiations as a key driver for the CAD. This was confirmed as the CAD strengthened sharply after the United States-Mexico-Canada Agreement (USMCA) was announced.
While an agreement has been struck among the three countries, legislative approval is still needed from all three countries and on this front there are some ratification risks. In the US, the Democrats have retaken control of the House of Representatives and while we ultimately believe that USMCA will be approved, key Democrats have voiced reservations and the desire to readdress certain clauses, which results in a small risk premium priced into CAD.
Striking an agreement on USMCA is supportive for the CAD in the following ways: The first is by reducing uncertainty, which should help investments and clear the path for further BoC rate hikes to keep pace with the Fed. Previously, hikes were seen by the markets to have been restrained by NAFTA uncertainty. To this point, the BoC raised rates 25 basis points at their October 24 meeting. Additionally, Canadian capex should also be bolstered by the recent announcement of increased tax write-offs of investments as a competitive response to the US tax cuts. Notably, the Fed is closer to the end of its normalization cycle than the BoC, which could enable a modest tightening of interest rate spreads.
Additionally, the agreement effectively protects the Canadian auto sector from additional tariffs, as it will be covered by a generous quota system well above that which it currently produces. Finally, a watered-down sunset clause extends the horizon of USMCA's review cycle. Taken together, all these factors bode well for a stronger CAD in the coming months. However, it should be noted that the deal does not resolve the dispute over steel and aluminum, with those tariffs staying in place.
Near term, crude prices have fallen nearly 35% since the beginning of October to the lowest level seen in over a year. Adding to this headwind are supply issues – due to distribution bottlenecks – that should persist into 2019. Additionally, broad-based USD strength and widening rate differentials have driven the CAD weaker. At the BoC's most recent meeting, the bank struck a dovish tone, indicating that there could be room for non-inflationary growth. So, while we believe the CAD will strengthen into the end of 2019, this arc may have been pushed out a bit.
AUD
YTD, the AUD has remained on a downward trend, driven by divergence between the RBA and Fed, as well as slowing Chinese growth and trade concerns as the Australian economy is export heavy with close ties to the Chinese economy. Short AUD positions remain at near 1 year highs and have been used by the markets as a hedge for trade war fears.
While as we noted in the USD section, we expect US outperformance to persist in the near term as large amounts of fiscal stimulus still remain in the system. This supports another Fed rate hike in December. While most of the bearish factors that have pressured the AUD this year remain in place, the scope for further weakness could be limited.
The argument for a less bearish AUD revolves around the following factors. The first is the USD. While the USD has outperformed since April, tailwinds to the US economy should fade. Moreover, recent domestic data and RBA commentary has been more bullish, supporting the RBA's glass half full narrative. While the markets are starting to believe that the central bank's next move will be to raise rates, this move does not become more likely than not until late into 2019. Finally further fiscal stimulus is expected in China, as evidenced by an uptick in government bond issuance that historically leads to infrastructure spending. This should provide support for Chinese growth and support stability in the broader EM space.
CNY
After a period of sharp depreciating pressure on the CNY starting in April, the currency has stabilized over the past couple of months.
The reintroduction of the counter cyclical adjustment (CCA) factor may be the most significant sentiment stabilization step. The CCA factor is designed to offset the influence of higher (CNY weaker) spot closes on the next day's fix. This factor had been in use before being deemphasized in January of this year.
Near term, the trade conflict with the US, which has been complicated by slowdown in domestic growth, should remain the dominant factor. Initially China's response came via monetary policy tools (RRR cut). More recently it appears that the Chinese government has leaned more on fiscal tools. Increases in local government bond issuance implies fiscal stimulus/infrastructure spending in the upcoming months. There has also been efforts to supplement consumption through tax cuts and initiative to drive health care, tourism, and education. All of these measures will likely provide a boost to EM sentiment as a whole. Ultimately a realization of growth improvement will be needed to reach a sustained period of CNY stability. Until then, risk to the overall macro outlook bias us towards further weakness. Of course the wildcard to all of this is how trade talks evolve. A 90 day "ceasefire" has been agreed upon but the issues remain difficult and the differences in statements from the US and China (as opposed to a joint statement) illustrates how far there is still to go.
This report is for general information and education only and was compiled from data and sources believed to be reliable. City National Bank does not warrant that it is accurate or complete. Opinions expressed and estimates or projections given are those of City National Bank as of the date of the report with no obligation to update or notify of inaccuracy or change. This report is not a recommendation or an offer or solicitation to buy or sell any financial instrument discussed. It is not specific investment advice. Financial instruments discussed may not be suitable for the reader. Readers must make an independent investment decisions based on their own investment objectives and financial situations. Prices and financial instruments discussed are subject to change without notice. Instruments denominated in a foreign currency are subject to exchange rate fluctuations, political and economic risks, and other risks. The Bank (and its clients or associated persons) may engage in transactions inconsistent with this report and may buy from or sell to clients or others the financial instruments discussed on a principal basis. Past performance is not an indication of future results. This report may not be reproduced, distributed or further published by any person without the written consent of City National Bank. Please cite source when quoting.
Investment and Insurance Products:
Are Not Insured by the FDIC or any other federal government agency
Are Not deposits of or guaranteed by a Bank or any Bank Affiliate
May Lose Value