USD
After multiple months of sideways trading and consolidation patterns, the DXY (USD index) regained its upward momentum in October from earlier in the year and is currently testing yearly highs. Part of the explanation for the DXY's strength can be drawn from continued U.S. exceptionalism regarding above trend growth and the expectation of further Fed interest rate increases.
Another part of the DXY's strength can be derived from slowing growth momentum outside the U.S. as the U.S. retains its safe haven status. Negatives associated with a slowing Chinese economy and continued trade tensions and friction between the U.S and China are rippling through the global economy. In addition, economic and political developments within Europe regarding a slowing EZ economy overlaid with the Italian budget confrontation with the EU have undermined euro sentiment.
Despite a sharp U.S. equity market correction and a slight downgrade for future Fed rate increases, the DXY remains a safe haven currency versus a global economy that is showing more signs of fatigue. How long U.S. exceptionalism regarding growth and interest rate divergence lasts will remain a key for the markets going forward. U.S. November elections next week could change short term dynamics but for the time being, we expect the DXY to remain steady to stronger against many of the major and emerging market currencies before correcting lower in 2019.
EUR
After months of sideways trading, the euro weakened during October and remains near YTD lows. A slowing EZ economy combined with political friction and turmoil regarding the confrontation between Italy and the EU regarding the Italian budget overshoot are hurting sentiment. In addition, Chancellor Angela Merkel's political standing within her own party and recent regional election losses for her party have also impacted the euro negatively. While the ECB is on a slow-motion path of normalizing interest rates, interest rate differentials between the U.S – Germany remain near multi-decade highs. Expect the euro to remain vulnerable in the short term but the currency remains extremely resilient to negative news.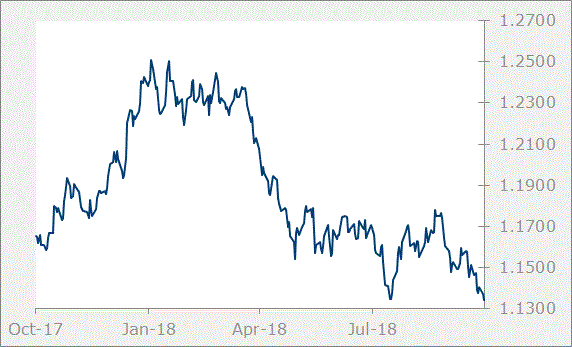 GBP
While the GBP largely mirrors euro movements in general, it is strongly impacted by the ongoing Brexit negotiations and PM May's standing within her own Tory party. Recent positive Brexit developments have diminished the probability of a hard-Brexit but the GBP has been negatively impacted by a weakening euro and a strong DXY. There are multiple moving parts to the whole Brexit negotiation and if a successful deal can be reached in the short term, PM May must still gain Parliamentary approval. Expect a steady to slightly weaker GBP in the short term.
JPY
The JPY remains trapped and buffeted by multiple market forces causing the JPY to remain volatile within very short term cycles. Concerns about U.S. – Japanese trade negotiations and Japan's sizeable trade surplus with the U.S. are reasons for medium to longer term concerns about a potentially weaker JPY. Negative demand effects on the Japanese economy from a slowing Chinese economy coupled with U.S. – China trade tensions are also keeping the currency weak. On the other hand, recent U.S. and global equity market mayhem (resulting in lower U.S. interest rates), has caused short term flows back into the JPY. Continue to expect a steady to slightly weaker JPY.
CAD
Despite what appears to be a successful NAFTA negotiation morphed into the new USMCA agreement and another Bank of Canada interest rate hike last week (5th since middle of 2017), the CAD has remained vulnerable in the short term. Recent DXY strength has overwhelmed these short term positives for now. In addition, recent U.S. and global equity market turmoil has spilled out into a decline in commodity prices including a sharp decline in oil prices which has negatively impacted this commodity exporting currency along with the MXN and NOK. Forecasts by many leading economists favor a stronger CAD down the road and we concur as Canadian fundamentals continue to improve overall.
AUD
The AUD has remained under pressure since the beginning of 2018 and is one of the worst performing G10 currencies down by 9%. It remains near YTD lows for most of October with market sentiment very negative. Continued expectations of a slowing Chinese economy and increased trade friction and tension between the U.S. and China are hurting sentiment regarding the negative impact on the Australian economy. The Reserve Bank of Australia remains on hold indefinitely as the official cash rate has remained unchanged at 1.50% since July 2016. Expect near term weakness in the short term with an eventual rebound in 2019.
CNY
The CNY continues to reflect all the negativity surrounding heightened trade tensions between the U.S. and China and the downstream effects for the Chinese economy and Chinese equity markets. While the CNY had shown some stability in August and September as the Chinese authorities took some short term stimulative economic measures, October saw renewed weakness as the currency pushes toward the important 7.00/$ level. Markets remain rightfully concerned about a very long and drawn out trade war that is increasingly becoming part of a geopolitical challenge between the U.S. and China with both sides extremely dug in. Expect further weakness in the short term.
This report is for general information and education only and was compiled from data and sources believed to be reliable. City National Bank does not warrant that it is accurate or complete. Opinions expressed and estimates or projections given are those of City National Bank as of the date of the report with no obligation to update or notify of inaccuracy or change. This report is not a recommendation or an offer or solicitation to buy or sell any financial instrument discussed. It is not specific investment advice. Financial instruments discussed may not be suitable for the reader. Readers must make an independent investment decisions based on their own investment objectives and financial situations. Prices and financial instruments discussed are subject to change without notice. Instruments denominated in a foreign currency are subject to exchange rate fluctuations, political and economic risks, and other risks. The Bank (and its clients or associated persons) may engage in transactions inconsistent with this report and may buy from or sell to clients or others the financial instruments discussed on a principal basis. Past performance is not an indication of future results. This report may not be reproduced, distributed or further published by any person without the written consent of City National Bank. Please cite source when quoting.
Investment and Insurance Products:
Are Not Insured by the FDIC or any other federal government agency
Are Not deposits of or guaranteed by a Bank or any Bank Affiliate
May Lose Value